Passing of
Prof. Dr.

Lucio

Colantuoni

It is with great sadness that the IASL has learned of the tragic death of Prof. Avv. Lucio Colantuoni on 7 January 2016.
Lucio Colantuoni was a Professor at the Law Faculty of the Milan University, Director of the Sports Law Research Center (Italy), Attorney at Law and Arbitrator at the Court of Arbitration for Sport. He was a member of the IASLsinse 1994 and member of Board of Directors since 2004.
Lucio Colantuoni was an outstanding sports lawyer and a friend to all of us who knew him.
Our thoughts are with his family. He will be greatly missed.
For the International Sports Law Association
The President
Dimitrios P. Panagiotopoulos
Professor at the University of Athens
* * *
Symposium
for the memory of Prof. +Lucio Colantuoni

Sports Jurisdiction and Arbitration in Sports Activities
Unite – Master in Diritto ed Economia Dello Sport nell'Unione Europea – IASL

Teramo, 8 July 2016
Program
* * *
Special News

22nd

Congress of the International Association of Sports Law (

IASL

)
21st IASL Congress 2015, in Marrakech take place 3-5 November, Morocco
Postgraduate students of the Russian
International Olympic University to
IASL
President
The St. John's LL.M. in International Sports Law Practice is a first-of-its-kind program in the U.S.

First International Conference on Sports Management and Sports Law

Professor Dimitrios Panagiotopoulos, President of IASL, will participate as invited lecturer in the First International Conference on Sports Management and Sports Law, United Arab Emirates, Dubai on March 3rd, 2015.

Also, will participate the IASL board members, Lucio Colantuoni Lawyer, Professor, University of Milan, Italy and Dr. Anatoly Peskov, Director, Security Department Russian International Olympic University, Moscow, Russia.
Sports Law New Publications
SPORTS LAW, 22 Years I.A.S.L: Lex Sportiva - Lex Olympica and Sports Jurisdiction Experience - Development & Perspective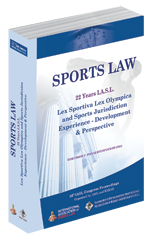 Sports Law - Structures, Practice, Justice, Sports Science and Studies